It was an EPIC day on the water for Wayne and Jimmy as I took them fishing on a quick 1/2 day Bay Trip.
We departed by 6:30a.m. knowing that we would be catching the early outgoing tide.  I decided to run EAST to West Sayville and Sayville to see if any of my holes were holding fish.  But there was NOTHING.  Some bait was around, which was good, but no serious marks.  The water temperature was in the low 60's which was a vast improvement over a week ago.
I decided to utilize the outgoing drift and calms winds and hit a known Weakfish spot, right around Point of Woods, just east and just west.    I had found a hole east of Point of Woods that not many people fish.  I suspect they don't because there is a lot of shallow water around it.  Shortly after hitting the spot, we were on some Weakfish, but the fish were only average in size.  We saw some boats aka 20+ boats just west of Point of Woods drifting between the two green cans.  We decided to check the area out.
There are a couple of holes in this area and while many people were just drifting with the herd, you can tell who were the guys that fished the area in the past as they were specifically targeting the holes and knew where they were.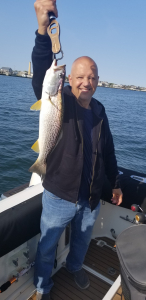 I made a map so you can see the various places to target when you're in this area.  If Weakfish aren't biting, you can usually pull up a decent Fluke in these same areas come mid-summer.  We caught our Weakfish on X-Pro Grubs (testing them-Pink/White), Pro Teasers (avail at AllProTackleBox.com), Spearing, Pink Bass Assassins.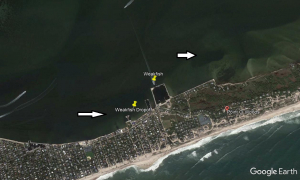 We caught a few more fish and that was enough for my crew.  They had dinner fare and were ready to take on something different.  I'm not someone who likes to fish in a parking lot, so I decided to fish a different species.  I moved over to a new shoal south of East Fire Island, off of the red CAN (sorry I can never remember #'s).  At first my crew thought I was nuts.  We were all alone in 3 feet of water… and I anchored!!!  First cast, BANG, Bluefish, 4-7lbs.  We were using 15lb braid, with 2000/2500 series reels… What a Blast.   It took about 20 minutes for others to notice we were onto something and we decided to allow others to have some fun, so we pulled up anchor and moved on.
Next, we worked the Fire Island Lighthouse Pier.  Wow.. big blue after big blue.  We had them on stick baits, grubs, Pro Teasers, Wang Jigs and the kitchen sink!  We kept a few for table fare (yup, Bluefish is good eating if you prep them correctly IMMEDIATELY after catching it).
FLUKE:  The Fluke bite is basically ZILCH around Fire Island.  The Ocean is dead and the bay consists of mostly shorts.  The only real Fluke action I know about is in the holes around Massapequa, Amityville, Tanners Park, etc.   Even the bite in the state channels have seemed to die off a bit.  I'm not saying you won't catch a keeper, but you'll need to commit to the back bay areas between Nassau and Suffolk County.
STRIPERS:  I'm not hearing about any significant STRIPER bite outside of Fire Island, but there still seems to be a decent bit to the west.  I suspect with the water warming I'm probably missing some action on the outside as I'm focused on the inside right now.
BLUES:  Remember there is a limit this year.  5 per person.  Treat them like a game fish, go with light line, light tackle and enjoy the Sportsmanship of it all.  They are everywhere, specifically off of the shoals and around the bridge.
TUNA TIME:  It's Tuna Time and has been since May 4th.  Next week the wind is going to blow so I don't think there will be an opportunity for mid-size boats to take a shot.  Intel is pretty tight lip right now… but I know people have been catching nice size Tuna around and south of the Coimbra… there have also been earlier reports of GIANTS nearshore, but that fishery is shut down.   My Tuna Trips will begin once the seas permit.
If you're interested in Booking a Charter go to AllProCharters.com.  If you have questions about the bait we use, the locations we go to, the techniques we use, please feel free to reach us at allproteam@allpronational.com   We're here to help the fishing community.