Fire Island Fishing Charters
2023 Let's Go.. Plenty of fishing left!! Book Now – Save the Date!
Fire Island Fishing Charters
With your enthusiasm and our expertise, AllPro will provide you with a great charter experience off the shores of Fire Island. We have various trip options to appease all those eager for a unique charter experience.
AllPro Local Bay Trip: (1 to 6 people $575. / $750, 4hrs/7hrs.) It is a quick bag of mixed tricks. During this trip, we will concentrate and stay in the Great South Bay (we do not go into the Ocean). Depending on the tide, time of day and moon phase, we'll fish for Weakfish, Fluke, Blues or Striped Bass. When the season is right, we'll anchor up at those secret bay hot spots for Sea Bass and Tautog (Blackfish). This is the most economical private service on Long Island Fishing Charter. It was created so the locals can get out and experience a private charter, get away from all those tangled lines and crowded party boats and enjoy a few hours out with some family or friends. It's a great trip if you have weak sea legs as we won't leave the calm waters of the Great South Bay. If you desire to go to the outside and fish the inshore ocean action, we would recommend the AllPro Ocean/Reef Trophy Trip.
Ocean Reef Trips:(1-4 miles offshore): (1 to 6 people, $650. / $825. 4hrs/7hrs This 4 or 7-hour Ocean trip will take you to the local reefs for Knucklehead Sea Bass, Tautog, or Doormat Fluke. We will venture to some of Long Island Gem Spots, as well as some secret hot spots. This is an ocean trip, so make sure you have good sea legs!
Ocean Wreck Trips:(12-30 miles offshore): (1 to 6 people – Full Day Trips Only, 8 hours) $979. This Ocean trip will take you to the sweet honey holes located south of Long Island in our Long Island fishing charters. Our targets would be monster Porgies, Knucklehead Sea Bass, Doormat Fluke, Mahi-Mahi, and several other species depending on the time of year.
Striper Trips: (1-4 people, $749.99) 7hr Spring and Fall Runs. This trip features Snagging/Dragging Bunker, throwing surface plugs and/or Trolling. We go where the Stripers are. Nothing is more exciting than Hooking into a COW and using your skills to bring that Trophy Fish in for a photo that will last a lifetime.
AllPro Shark Challenge Trip: (1 to 6 people, $1250.) Do you have what it takes to battle a 150lb, 250lb or even a 300+lb shark? This 7-hour ocean trip is for the true adventurer. Our Captains will travel up to 25 miles offshore to find that Trophy Beast. Get ready to battle!
AllPro Offshore Pelagic Tuna fishing charters Trolling/Jigging/Chunking Trip: (1 to 6 people, $1599.) A trip of a lifetime on Long Island fishing charters. We call this a Bucket List Trip. Your 10-hour journey will be upon a specially equipped vessel designed for these offshore adventures. On this trip, we'll be targeting Bluefin Tuna, Yellowfin Tuna, Mahi Mahi & Wahoo. But don't be surprised if we find a hungry Marlin around. Get your sea-legs ready as we venture up to 90 miles offshore. During this trip it's common to see whales, sea turtles & dolphins so bring the camera.
AllPro Fun Fare Fishing Charters Clinic: (1 to 4 people, $499) This 4-hour trip was designed for your family or buddies to get out onto the calm waters of the bay and to have some fun while getting a tight line and learning a few fishing techniques in Long Island Fishing Charters. This is the perfect trip for your less experienced angler who wants to learn how to fish, use a rod/reel, tie some knots and get a better understanding of how things are done out on the water. Depending on the season, we will be targeting inside Weakfish, Bluefish, Stripers, Flounder, Fluke, Sea Bass, Tautog (Blackfish), Porgies, Blowfish and Kingfish. This trip is all about FUN, FISHING & A GREAT TIME.
AllPro Corporate Trip: (1 to 5 people, Custom Hourly Billed Trip $179 per hour) Want to reward your best clients or over-achieving staff with a little R & R with a lot of Fun, Fun, Fun. This specially designed trip allows you to show how much you appreciate your clients or staff without breaking the bank. You will be welcomed aboard a very clean vessel that will not only include all of the necessary fishing gear but also a boxed lunch, snacks, drinks (water, soda, beer & wine coolers) and some take-home promotional items. This custom trip has no limits. We can take you and your guests out for a pleasant day of inside fishing with or without some site seeing or take a more adventurist approach and extend the trip to target multiple lists of offshore trophy fish.
AllPro Crab Night: ($399) Departing between 5:30 pm and 6:30 pm we'll take you (up to 6 people) to the crabbing grounds, away from the docks and piers for a 3-hour adventure. As we anchor up in the ideal location for Long Island's Awesome Blue Claw Crabs, we'll take out the BBQ and get the Hot Dogs and Hamburgers on the grill. Enjoy some wine, beer, and refreshments and be ready to share a whole bunch of laughs. This trip is all about having a GREAT TIME, with GREAT PEOPLE and doing something outside of your normal night out in our Long Island fishing charters.
LAST MINUTE DISCOUNT TRIPS: There are times that the fish are in, the sea conditions are perfect and we aren't booked. In these cases, we email an alert to that fisherman who is available to depart on 24hr notice. These trips are discounted 15%-50%. So get on the list. Email us at allproteam@allpronational.com. And request to be placed on the Fishing List.
AllPro Charter Policy
No illegal drugs or hard liquor is permitted.
A $150.00 deposit is required to book a trip and to secure a date. On Last Minute Discount Trips, payment is due in full at the time of booking.
The pending balance should be paid no later than 24hrs prior to the departure of the trip. Any charges within 24hrs of the departure time will incur a 5% convenience/card fee. Cash is also accepted on the day of the trip.
100% refund on Trips cancelled by AllPro (we will try to provide 24hr notice).
No refund for trips cancelled by the client within 7 days. 100% refund, less a $59.99 Administration Fee will be provided for cancellations prior to 7 days or 100% (1) Year AllPro Credit for a future trip will be provided.
All-State and Federal fishing regulations are strictly enforced. Our Captains will not fish any illegal baits.
All fish caught on the trip belong to the charter (customer). We will clean and bag up to 5 fish per person that is caught. There is a cleaning fee of $1.25 per fish after 5 fish.
Gratuities are not required but appreciated. The industry standard is 15-20%. Gratuities will be shared by all those involved in your fishing charters near me.
Call an AllPro Specialist' toll free 1–844 Go–AllPro or 1–844–462–5577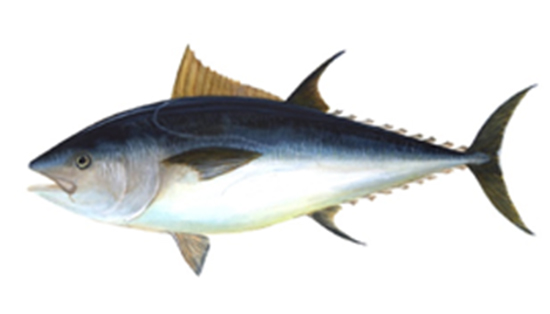 BLUEFIN TUNA
The Atlantic bluefin tuna (Thunnusthynnus) is a species of tuna in the family Scombridae. It is variously known as the northern bluefin tuna. For those tunas that exceed 330lbs, they are considered as the Giant bluefin tuna which are featured by the hit show Wicked Tuna.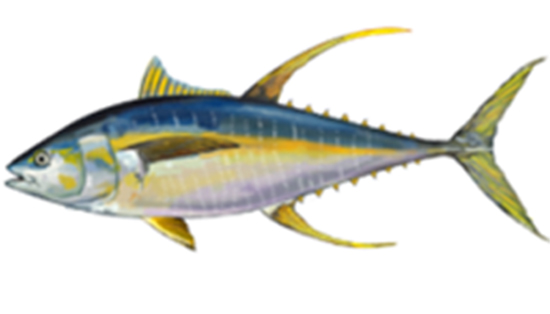 YELLOWFIN TUNA
The yellowfin tuna is among the larger tuna species, reaching weights over 400 lb, but is significantly smaller than the Atlantic Bluefin tuna, which can reach over 990 lb, and slightly smaller than the bigeye tuna and the southern bluefin tuna. The second dorsal fin and the anal fin, as well as the finlets between those fins and the tail, are bright yellow, giving this fish its common name.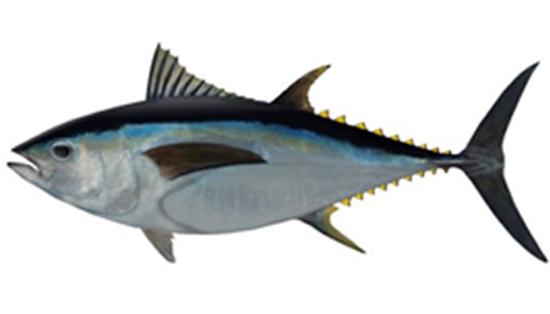 BIGEYE TUNA
Can grow up to 8 feet in length. Maximum weight of individuals probably exceeds 400 lb, with the all-tackle angling record standing at 392 lb. They are large, deep-bodied, streamlined fish with large heads and eyes. The pectoral fins are very long, reaching back beyond the start of the second dorsal fin in juveniles and the space between the first and second dorsal fin in adults. They have 13 or 14 dorsal spines.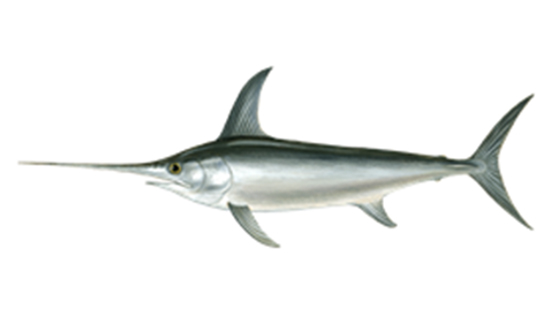 SWORDFISH
They are a popular sport fish of the billfish category, though elusive. Swordfish are elongated, round-bodied, and lose all teeth and scales by adulthood. These fish are found widely in tropical and temperate parts of the Atlantic, Pacific, and Indian Oceans, and can typically be found from near the surface to a depth of 1,800 ft. They commonly reach 9.8 ft in length, and the maximum reported is14.9 ft in length and 1,430 lbs in weight.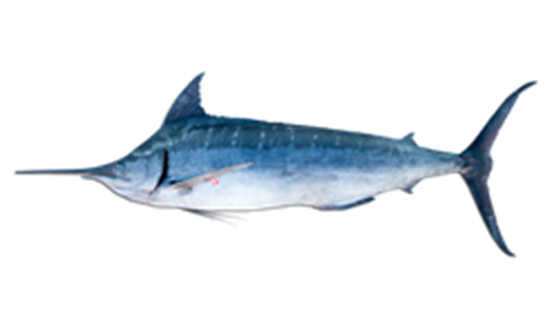 MARLIN
A marlin is a fish from the family Istiophoridae, which includes about 10 species. It has an elongated body, a spear-like snout or bill, and a long, rigid dorsal fin which extends forward to form a crest. Atlantic blue marlin, which can reach 16.4 ft in length and 1,803 lbs in weight[3] and the black marlin, which can reach in excess of 16.4 ft in length and 1,480 lbs in weight.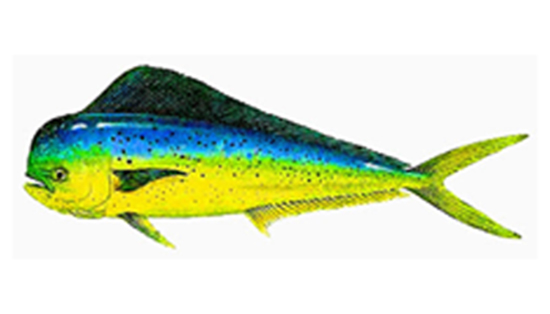 MAHI MAHI
This super coloured fish has several names depending on where you fish, including Dorado and Dolphinfish. Mahi-mahi can live up to five years, although they seldom exceed four. Females are usually smaller than males. Catches average 15 to 29 lbs.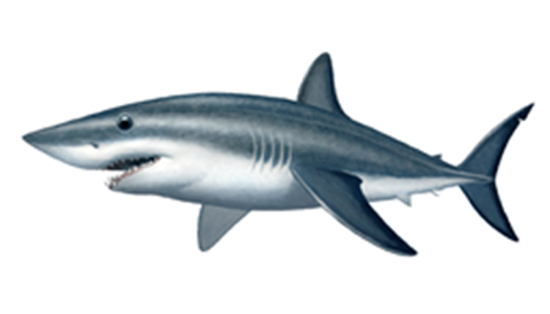 SHORTFIN MAKO
Is a fairly large species of shark. Growth rates appear to be somewhat accelerated in comparison to other species. An average adult specimen measures around 10 ft in length and weigh from 132-298 lbs. The species is sexually dimorphic, with females typically larger than males. Large specimens are known, with a few large, mature females exceeding a length of 12 ft and a weight of 1,260 lbs.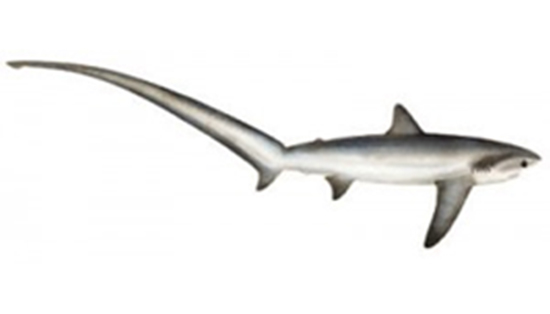 THRESHER
Named for their exceptionally long, thresher-like heterocercal tail or caudal fins (which can be as long as the total body length), thresher sharks are active predators; the tail is used as a weapon to stun prey. The thresher shark has a short head and a cone-shaped nose. The mouth is generally small, and the teeth range in size from small to large. The common Thresher may reach a length of 20 ft and a weight of over 1,100 lbs.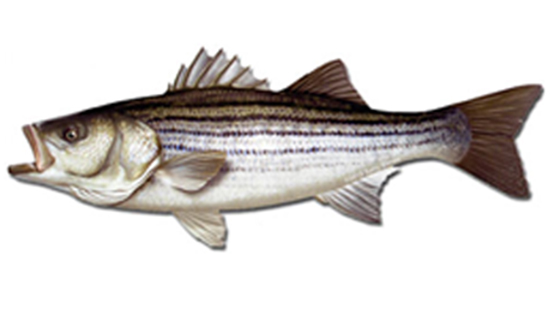 STRIPED BASS
Striped Bass is a typical member of the Moronidae family in shape, having a streamlined, silvery body marked with longitudinal dark stripes running from behind the gills to the base of the tail. Common mature size is 8 to 40 pounds. The largest specimen recorded was 124 pounds, netted in 1896. Striped bass are believed to live for up to 30 years.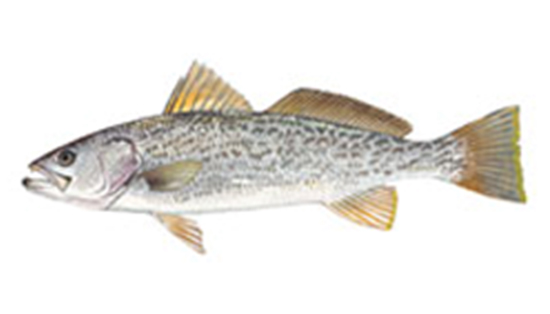 WEAKFISH
A medium-large, slender, marine fish, it is found along the east coast of North America. The head and back of this fish are dark brown in color with a greenish tinge. The sides have a faint silvery hue with dusky specks, and the belly is white. The origin of its name is based on the weakness of the mouth muscles, which often cause a hook to tear free, allowing the fish to escape. The weakfish grows to 3 feet in length and 20lbs in weight.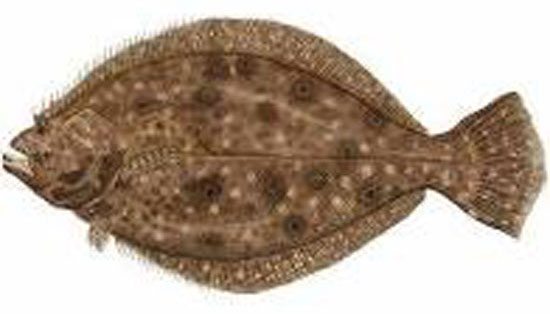 FLUKE
The Summer Flounder is also known as a Fluke. It is a marine flatfish that is a staple in and around New York waters. The teeth are quite sharp and well developed on both the upper and lower jaws. The average Summer Flounder weigh 1 to 3 pounds, typically 15-20 inches, though they are known to grow as large as 26 pounds and live up to 20 years.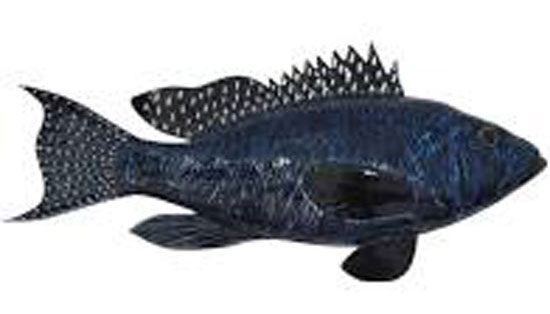 BLACK SEA BASS
The Black Sea Bass is New York's Grouper. This fish may live up to 20 years and grow up to 24 inches in length and weigh up to 6 pounds. The Black Sea Bass are protogynous hermaphrodites, meaning they generally first mature as females and some later become males as they mature. The sex change generally occurs over the winter when the fish are between 9.5 inches to 13 inches in size.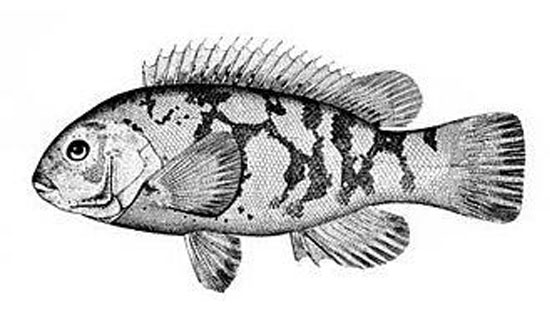 TAUTOG/BLACKFISH
The Summer Flounder is also known as a Fluke. It is a marine flatfish that is a staple in and around New York waters. The teeth are quite sharp and well developed on both the upper and lower jaws. The average Summer Flounder weigh 1 to 3 pounds, typically 15-20 inches, though they are known to grow as large as 26 pounds and live up to 20 years.